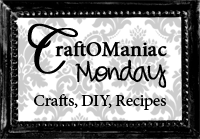 WELCOME TO ANOTHER CRAFTOMANIAC MONDAY LINK PARTY!
RULES
1- Link up NO more then "3" Crafts, DIY Projects, Recipes, or Tutorials
2- NO GIVEAWAYS, OR OTHER LINK PARTIES!
3- Please link back to CRAFTOMANIAC your host.
4- BE AWESOME and pay some other crafters a visit and leave comment love.
YEAH, CAN'T WAIT TO SEE WHAT YOU HAVE WORKED ON!