HELLO TO ONE AND ALL- I am sharing some SPOTLIGHT TALENTS, from last Mondays COM MONDAY. You guys make it hard, with so much talent out there. I love sifting through the link party
. FIRST THINGS FIRST.....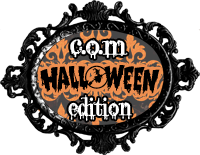 EXCITING NEWS .... SPEAKING OF
COM MONDAY... CHECK OUT MY COM MONDAY
"HALLOWEEN EDITION" BUTTON.
Thanks Heather, loves to you. I would love for you all to grab one and place it on your blog. (smiles) Tomorrow at 2:00 p.m. mtn. standard time, the link will go LIVE - "HALLOWEEN ONLY" links.
I sure would love for you all to help me spread the word, and share my button. This is going to be some serious
Halloween Spook-tab-ulous-ness!
(i just made that word up) I can't wait for this event. BEST PART, I WILL BE SHARING "25"projects for the Saturday Spotlight Talent Show. SO BY ALL MEANS SPREAD THE WORD.
NOW ONTO TODAY'S Saturday Spotlight Talent Show
thank you super SATURDAY TALENTS.
SEE YOU ALL TOMORROW AFTERNOON FOR THE COM MONDAY
XO JEN