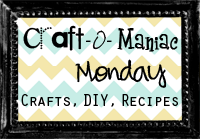 TO CRAFT-O-MANIAC MONDAY AND READY TO PARTY WITH US .... "YOU ROCK!"
*Please be courteous to your host and link back to
*Please link up only "3" cRaFts. DIY PROJECTS. or Recipes.
*PLEASE DO NOT link to giveaways, craft posts attached to your own link party, business's, or Etsy shops. Please share your work and not someone else's.
*Please visit some other links and show some comment love!
we are here to party and to support.
I ALSO WANTED TO SHARE THIS SUPER SIMPLE CRAFT.
"A POM POM GARLAND"
All you need is a large sewing needle any kind of thin thread, I used Bakers Twine, and some Pom Poms in your choice of colors.
TO MAKE:
I thread the bakers twine through the needle hole and pulled it through about two inches. Then one by one I stabbed the pom poms with the needle more toward the side of the pom pom and threaded the amount of pom poms I wanted. I cut the b. twine and tied knots on each end. I was DONE!
PSSSST. I so don't have V-DAY up this was totally for the post. (the life of a blogger, winks)
NOW LET'S
PARTY
SHALL WE....
***also,
HA
PPY
HA
PPY
HA
PPY
NE
W
YE
AR TOO!!!
***