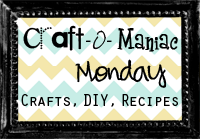 TO CRAFT-O-MANIAC MONDAY AND READY TO PARTY WITH US .... "YOU ROCK!"
*Please be courteous to your host and link back to
*Please link up only "3" cRaFts. DIY PROJECTS. or Recipes.
*PLEASE DO NOT link to giveaways, craft posts attached to your own link party, business's, or Etsy shops. Please share your work and not someone else's.
*Please visit some other links and show some comment love!
we are here to party and to support.
BEFORE WE GET STARTED ON THE LINK PARTY. I wanted to share with you my Oh' so Pretty and YUMMY scented candle from Goose Creek Candle Company.
The scent I selected is called Autumn Breeze MAN its great, I love it. Sometimes we just want the beautiful warm glow of a burning candle. I love my tart warmers but I really love the ambiance a candle gives to a space. Its very inviting and cozy, and if it smells really good EVEN BETTER.
is GIVING ONE Candle Away of your choice to one lucky winner.
THEY ALSO are offering a coupon code 1050 for 25% off your purchase until October 31st.
TO ENTER:
1- tell me what your favorite Goose Creek Candle scent is?
3-Tweet or FB this Giveaway.
4- let me know if you linked up to the party, that is an additional entry.
Winner will be announced via COM-FB in a week. GOOD LUCK.
NOW LETS PARTY!